I have been described as confident and self-aware, with a curious and creative mind. Generally easy-going, I appreciate subtleties of movement and touch. I choose to live in a way that embraces playfulness and spontaneity.
My nationality is half Italian, a quarter Norwegian, and a quarter Argentinian (likely leading to my love of Tango).
I am
polyamorous
, which means that I believe in being in more than one loving relationship at a time with full honesty and integrity. I don't use the hierarchy model of primary/secondary
 roles
. I would be happy to share
more of what that means
and what the journey has been like for me.
Quote: "We don't receive Wisdom; we must discover it for ourselves, after a journey that no one can take for us or spare us." - Marcel Proust
Things that inspire me
Career
: Technology comes easily to me and I work in the 
Tech Support
field. A desire for a more fulfilling, holistic path involving healing led me to pick up a second career. The
healing
arts have always attracted me, thus my gaining a
Chiropractic
education. A good balance is important to me, between social life, active lifestyle, and learning more about what the healing arts offer.
Dance
: Dance has always been a passion and you can find me dancing at least once or twice a week.
Ballroom dancing
gives me an artistic outlet, a moving meditation to help center me, wonderful physical exercise, and a way to connect to others.
Ecstatic Dance
,
Tango
,
Blues Fusion
, and
Irish
dancing draw me the most, yet all types of dancing (including
Waltz
,
Swing
,
Salsa
, etc.) are a pleasure. 
Sometimes I dance to my own rhythms in the rain.
Exercise
: I love
mountain biking
 beautiful redwood trails,
roller-blading
,
water-skiing
and
snow-skiing
, guiding 
white-water rafting
, and a variety of sports.
Some of my favorite places to explore are along the coast near Sea Ranch in the redwoods, in Big Sur exploring the waterfalls, or up in the berkeley hills at Tilden. I feel much more connected to the beauty found in nature than I do in the city.
Centering
: Moving meditation through dancing, practicing
yoga
, and my
martial art
practice (
Tae Kwon Do, Kenpo Karate, White Tiger Kung Fu
)
 is my way of centering myself. 
I also feel a huge amount of peace when hiking in the redwoods or relaxing at Harbin Hot Springs. 
I enjoy learning more abou
t my inner self, how it's led me to this place, and where it is leading me next. Life is a journey and there is something to be savored in its path as well as its destination. Self-knowledge is one of the most valuable things in life.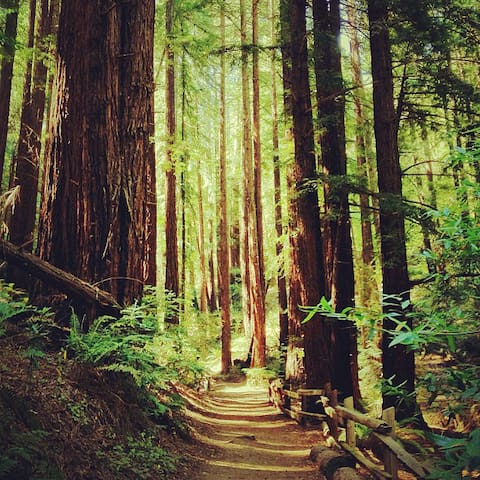 Creativity: 
It's fun to get together with a group of friends and socialize by playing role-playing games (mostly D&D) once every two weeks or so. I really enjoy the creative stretch of shared story-telling.
Gaining new perspectives
: Berkeley drew me to live here with its wonderful mix of different cultures. The college and environment of the city tends to draw in all sorts of different personalities, many with unique perspectives on life. 
I also really enjoy exploring Burning Man and savor the many diverse experiences to be found there. Amazing dancing, incredible artistic expressions, multi-faceted people. I'll be going back next year.
Family
: The oldest of eleven siblings, it's important to me to spend time with them. We often get together on holidays or for hiking trips. There is so much to continuously learn from my family. They have so much insight and personal growth to share with me.
Being a Father: I am co-parenting a beautiful 8 year old daughter, Alexanna, who is one of my greatest treasures. I have never been married, but decided to explore having a child with a close friend. Our daughter stays at her mothers place, but I occasionally take her out for hikes or such. So far it's going great.
My strengths
Communicating Clearly: I am good at relating personal thoughts and feelings clearly, and being able to really listen to what another is experiencing.
Making Friends: I enjoy meeting new people. Curiosity and openness makes it fun to learn about other ideas and cultures beyond my experience. You'll find me to be a outgoing personality, yet I recharge my energy by time alone or doing introspective things. By nature an introvert, I have learned how to relate as an extrovert to meet people.
Living in the Moment
: I really connect with the present moment and the experience that is happening right now. 
There is an openness to fully experiencing life as it happens and accepting others for the amazing people they are.
Maintaining a Positive Outlook: Keeping a enduring positive outlook on life has always been important to me. I find this perspective gives me the most joy.
Empathy: Connecting and understanding others passions and why they enjoy life. Genuine caring and acceptance of others are among my best traits. Remaining centered and yet still being able to put myself in another's shoes gives me a better understanding of their feelings.
Favorites
Books: Favorite books tend to change a lot as I enjoy reading. Some of them would be: Enders Game, Way of the Sacred Warrior, Lord of the Ring, and a host of others. Many of them tend to be fantasy or sci-fi books.
Movies
: There have been too many movies to settle on just one. Some of the great ones have been: Avengers, Water for Elephants, Daredevil, Iron Man, Zorro, The Truth About Cats and Dogs, Mamma Mia, Chocolat, Under the Tuscan Sun, A Good Year, The Ugly Truth, and Last Samurai. Also movies with a romantic fantasy flair (such as Ever After, Gladiator, Pirates of the Caribbean, Princess Bride, Robin Hood, and Three Musketeers). Favorite TV shows are
Arrow
,
Game of Thrones
,
Sens8
, 
Sherlock
, and 
Vikings
Music: A eclectic interest in music ranging from 80's rock to alternative and celtic. Some of my favorites include: Ace of Base, Aerosmith, Alanis Morissette, Avril Lavigne, Coors, Enya, Gaelic Storm, Heather Alexander, Lorenna McKennitt, Melissa Etheridge, No Doubt, Santana, Tori Amos, and a host of others.
Food: Italian or Indian are favored so far, although there is always an openness to try a new dish or cultural specialty. I prefer food that isn't very spicy.